Black & Decker KS900EKX-IN 600W Jigsaw Machine – 2 inch Straight-line Sander
1 in stock
Highlights
Sander Type: Straight-line Sander
Usage Type: Home & Professional
Pad Size: 2 inch
Power Source: Corded
Weight: 1.3 kg
Estimated Delivery for Different Locations
Karnataka - 2-3 days from shipment day
South India - 4-7 days from Shipping
Rest of India - 8-10 days from Shipping
---------------------------------------------------------------------------
Return Policy - 7 days from date of delivery, if product is damaged, dead on arrival or different from what was ordered.
All products are genuine and carry warranty (wherever applies)  from respective Brand service provider.
Freebies & Promotions
Free Shipping above ₹2000.
Compare
Description
You can work on your DIY projects or engage in professional woodworking jobs by bringing home the BLACK+DECKER KS900EKX 600 W Variable Speed Slightline Autoselect Pendulum Jigsaw (with a kit box and 10 blades). Equipped with a sharp blade and an ergonomic design, it can effortlessly cut through high-density materials and diverse surfaces while delivering a smooth performance. Furthermore, it comes packed in a heavy-duty carry case that protects the tools from minor impact-related damage and ensures easy portability.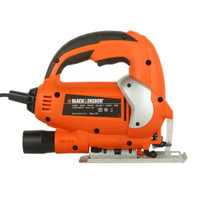 Pendulum Blade
Equipped with a unique pendulum blade, the BLACK+DECKER KS900EKX 600 W Variable Speed Slightline Autoselect Pendulum Jigsaw (with kit box and 10 blades) makes precise cuts on diverse high-density surfaces such as plastic, wood, or metal. It is designed to ensure optimum support and easy operation while providing an efficient cutting performance.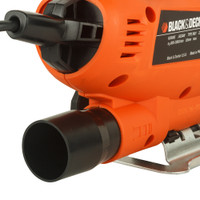 High-performance Motor
This pendulum jigsaw delivers a quick cutting action, thanks to its powerful motor. The air vents on its body cool down the motor when it heats up during operation.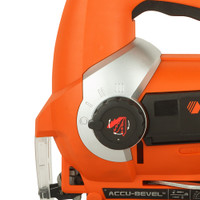 Three Different Speed Modes
This pendulum jigsaw is equipped with three different speed modes that can be controlled with its variable speed-adjustment knob to facilitate efficient operation. As a result, this pendulum jigsaw provides improved control irrespective of the type of material you are working with.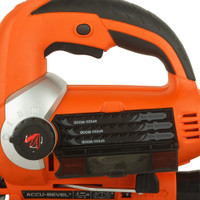 Magnetic Blade Storage and Lock-on Switch for Hassle-free Use
Equipped with a lock-on switch on its handle, this pendulum jigsaw lets you operate the tool without having to hold the trigger down continuously. Plus, it features a magnetic onboard space which helps you change blades instantly or store the alternate blade right on the machine for easy access.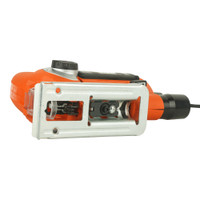 Pendulum Mechanism
This pendulum jigsaw provides you with quick cutting action, thanks to its unique pendulum mechanism. Additionally, it comes packed with ten heavy-duty steel blades that deliver precise cuts on various surfaces and rigid materials.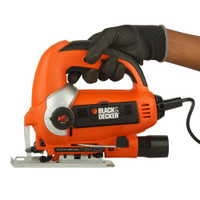 Equipped with Useful Features
With the help of its dust-blow feature, this pendulum jigsaw eliminates residue and dust particles to keep your workspace clean and tidy. Moreover, its Superlok blade clamp enables quick U and T shank blade changes for added convenience.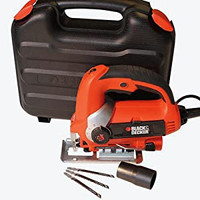 Heavy-duty Carry Case
This pendulum jigsaw and its accessories come packed in a heavy-duty carry case that can absorb impact and light shocks to ensure all-around protection of your tools. Plus, it provides you with a comfortable grip so that you can carry it with ease wherever you go.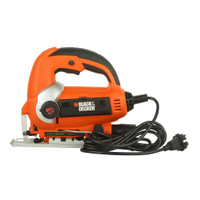 Versatile Applications
Designed ergonomically to minimise fatigue, this pendulum jigsaw can be operated for extended periods of time without discomfort. It is ideal for a range of professional and DIY applications, such as woodworking and construction projects. You can use this pendulum jigsaw to make high-precision cuts and ace all your personal and professional projects with finesse.
Specifications
Important Note
You, the customer hereby represent and undertake that you are of legal age for purchase and use of this product. You undertake that you will use the product for domestic, and/or agricultural purposes only and in a safe and legal manner, consistent with all applicable laws, safety rules, and good common sense. Further, you represent that you will take such steps as may be reasonably necessary or required by applicable law to keep the product out of the hands of minors, untrained and/or unsound mind individuals. Goodstrolley shall not assume any consequences, loss, damage or injury, that may arise from the violent or illegal use, or misuse of the product . It is the responsibility of the customer to handle the product with due care and its intended and legitimate use as a tool. Goodstrolley does not represent or warrant that the customer may legally purchase, own, or possess the product. Please check the laws and regulations outlined by Law Enforcement Agencies in your local jurisdiction before purchasing and keeping the product in possession.
General
| | |
| --- | --- |
| Brand | |
| Model Number | KS900EKX-IN 600W Jigsaw Machine |
| Sander Type | |
| Pad Type | |
| Pad Size | |
| Motor Speed | |
| Suitable For | Woodworking, DIY, Carpentry |
| Color | |
Tool Features
| | |
| --- | --- |
| Pad Motion | |
| Material | |
| Vibration Level | |
| Vacuum Hose | |
Power Features
| | |
| --- | --- |
| Power Source | |
| Power Requirement | |
| Power Consumption | |
| Amperage | |
| Other Power Features | Pressure Sensitive Switch |
Additional Features
| | |
| --- | --- |
| Grip Material | |
| Lock | |
Dimensions
| | |
| --- | --- |
| Cord Length | |
| Weight | |
Additional information
| | |
| --- | --- |
| Weight | 1.4 kg |
| Dimensions | 30 × 25 × 20 cm |